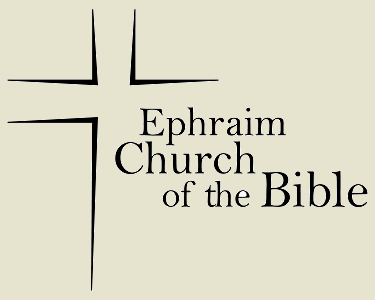 ---
Our chief end is to glorify God by enjoying Him forever.
We glorify God by expressing our delight in Him through worship and trust;
by loving His redeemed and building them up;
by extending His grace to others so that they might join us in glorifying God.
---
Welcome to the Ephraim Church of the Bible web site. We are glad you stopped by. We hope that by your visit you are blessed , encouraged, and challenged to grow in you relationship with Jesus Christ.
Ephraim Church of the Bible is a non-denominational Christian church serving all of Sanpete County. Worshipers come from Ephraim and the surrounding towns of Manti, Mount Pleasant, Fairview, Spring City, Moroni, Fountain Green, Gunnison and Centerfield. All are welcome!
---
---

right-click to download the latest sermon: downloads page; subscribe to the podcasts or the YouTube channel
---
---
for a schedule of our weekly events and upcoming special events, please visit our ministries page
---
home | about us | ministries | downloads | missions |
Ephraim Church of the Bible ~ 380 S 400 E, Ephraim, UT 84627
www.ephraimbible.org